China, Internet Censorship and Why you need a good VPN
Traveling to China? You need a good VPN service to access Facebook, Youtube, Google, Twitter. China probably has the most sophisticated internet censorship in the world.
The Great Firewall has evolved, it has implemented DPI (Deep Packet Inspection) to block most encrypted traffic. Most VPN services no longer work.
Actual GFW implementation is very patchy and inconsistent. Websites that are blocked in one province or jurisdiction are often accessible from the one next door. Even widely blocked services such as Google+ are occasionally accessible, while many totally innocuous websites, that are apparently devoid of political or otherwise objectionable content, may find themselves blocked.
All of which also applies to VPNs. The same service can be blocked in some locations and not others or may work one day and not the next.
There used to be lots of domestic VPN services, most, if not all of them have been shut down by the Chinese government, so don't expect to purchase one of those services from China.
Probably all free overseas VPN services (e.g. VPN gate) are completely blocked, so don't count on free VPN services, they simply won't work.
Fortunately, there are still a few high-quality VPN services working in China, they come with extremely strong encryption protocols to bypass GFW's DPI. They're purchasable directly from mainland China and used by millions of Chinese users every day.
Top 3 VPN in China
Best VPN services that are still working from mainland China
Rank
Name
Features
Price
Comment
1
ExpressVPN
148 server locations
One of the fastest VPN in China
Apps for Windows, Mac, iOS, routers and Linux
Use 3 devices with 1 subscriptions
VPN Split Tunneling
No logs
30-day money-back guarantee
$8.32/mo
Most widely used VPN in China
2
VyprVPN
Self-managed servers
Apps for Windows, Mac, Android, iOS, TV and router
70+ server locations
Chameleon protocol
No logs
30-day money-back guarantee
$4.00/mo
State of the art anti-blocking technology
3
NordVPN
4400 servers worldwide
Apps for Windows, Mac, Android, iOS, Chrome, Firefox
6 devices with a single account
No logs
P2P allowed
Military-grade encryption
Cancel anytime
$3.29/mo
Best price, best refund policy
ExpressVPN
Last year, when China was having it's 19th Congress (late 2017), the internet was being tightly controlled and VPN usage was incredibly hard. Lots of VPNs no longer worked, but there was one that always did…ExpressVPN.
You can usually get a decently fast connection (7 mbps on desktop from 10 mbps max) if I connect to the US Los Angeles or Hong Kong servers, which are specifically optimized for China users. Streaming Youtube is usually no problem at normal definition (480p) and ExpressVPN even works with Netflix, which is great as some VPNs are blocked by Netflix.
Connection drop-outs are rare unlike many of the other VPN apps I have tested. Encryption is a pretty standard 128-bit or 256-bit OpenVPN with an unspecified kind of stealth layer.
ExpressVPN has one of the easiest to use App.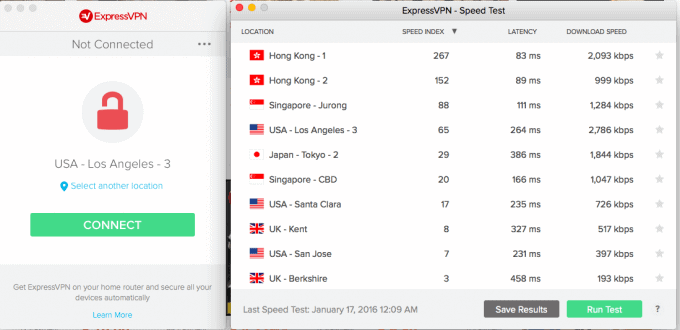 The layout of the server list in the apps make it very easy to choose and select your favorite go-to server. ExpressVPN also has a really useful automatic speed test feature that systematically goes through each of its servers to find the one with the most optimal performance for your specific location. In my experience using ExpressVPN in China, the best servers with fastest performance are Los Angeles 3 and Hong Kong 1.
VyprVPN
Started in 2006, VyprVPN has become one of the most popular VPNs for people in restrictive countries like China, Iraq and many others. One of the reasons is because of their proprietary Chameleon 256-bit encryption protocol which avoids detection while giving you high security.
For users in China, the most important of these is "Chameleon" stealth technology (premium plan only). This is specifically designed to defeat the GFW. VyprVPN also uses UDP ports in its apps to help defeat port blocking and other throttling issues.
VyprVPN's App is very easy to use.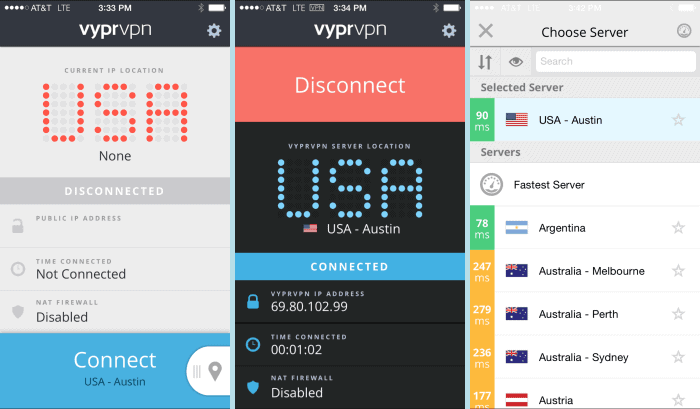 You can usually get 4 mbps through the Japan servers. It is fairly reliable, but at peak hours it can be a bit slower. I rarely experienced random disconnections. US West Coast is also a good choice (Usually 5 mbps). For mobile, I like to use the Hong Kong servers, as they seem to be the most stable.
VyprVPN has the three main VPN protocols (OpenVPN, LT2P, and PPTP) as well as their own proprietary "Chameleon" 256-bit protocol which is designed to allow you to stealthily slip by the Great Firewall. I have tested all of the protocols and have found PPTP 128-bit to be the fastest. However, according to more diehard cybersecurity enthusiasts, 128-bit PPTP has a higher risk of being broken. For this reason it is probably best to stick to the Chameleon (OpenVPN + obfuscation).
NordVPN
NordPVN keeps zero logs of user activity and maintains strong encryption standards. Some servers are specialized with speed and security optimizations like anti-DDoS, ultra-fast streaming, double VPN, and Tor over VPN.
For users in China, it is highly recommended to turn on the "Obfuscated Servers" mode in the "Advanced Settings" area. This obfuscation masks your VPN traffic so it cannot be detected by the internet censorship technology used in China and other countries like Iran. Without this obfuscation mode turned on the app will be very slow or totally unreliable in China.
NordVPN too has an intuitive App.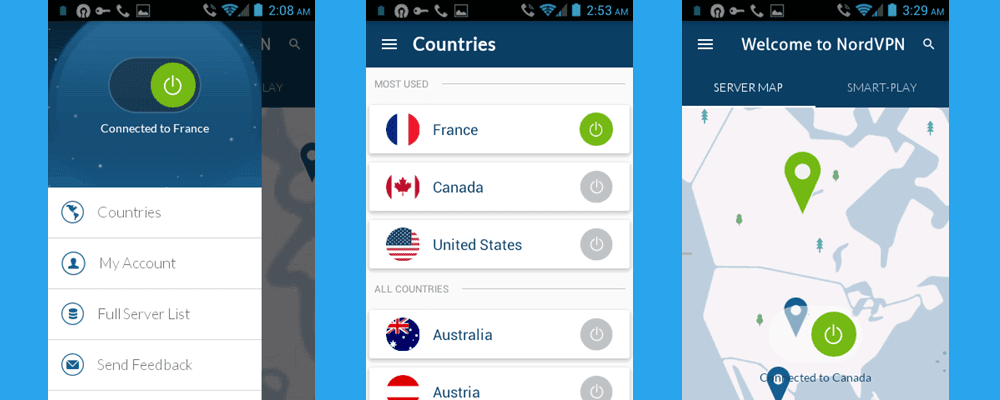 NordVPN is one of the most privacy-centric VPNs on the market. They offer a suite of advanced features such as Double-encryption – wrapping an encrypted VPN connection inside another VPN connection to ensure extra protection; Onion-over-VPN – this technique is useful for those using TOR for extra privacy and security; CyberSec – an option to block malicious ads and malware.
VPNs that don't work in China
Astrill, PureVPN, and StrongVPN to name a few. Maybe others too, depending on whether you just need to hop the wall, or if you also value your privacy and anonymity online. Keep reading this page for a detailed analysis of the strengths and weaknesses of each VPN.
Reminders
Although the recommended VPN all provide China-accessible mirror sites, it's the safest to purchase them before you land in China
If a service provides different plans, ALWAYS pick the one with the strongest encryption, that will give you the most stable connections
Test the services out from the places you're most likely to stay in China, different ISPs in China may implement slightly different censoring rules
Never ever use a free VPN service from China, otherwise, you risk leaking private data to an unknown 3rd-party
Try not to get those trial VPN services with a limited data plan, because when you get to China you may not be able to upgrade the service
By the end of each Chinese new year, connections speed WILL drop, that's the time Chinese government tightens internet censorship, it usually lasts for 2 weeks, recommended VPN services above should still work, just not as fast
If you want to ensure absolute connectivity, the best bet is to purchase an extra service as back up, lots of people do this, many buy 2 VPN before going to China
Hope this is useful.