This ExpressVPN China review was done with the help of many friends from Xi'an, Guangzhou, Shenzhen, Shanghai, and other cities in China. We extensively tested it on Windows/macOS/Android/iOS/Linux systems for over a week. The answer is clear: YES! ExpressVPN works in China. We encourage you to see its popularity for yourself among Chinese internet users after you arrive in China.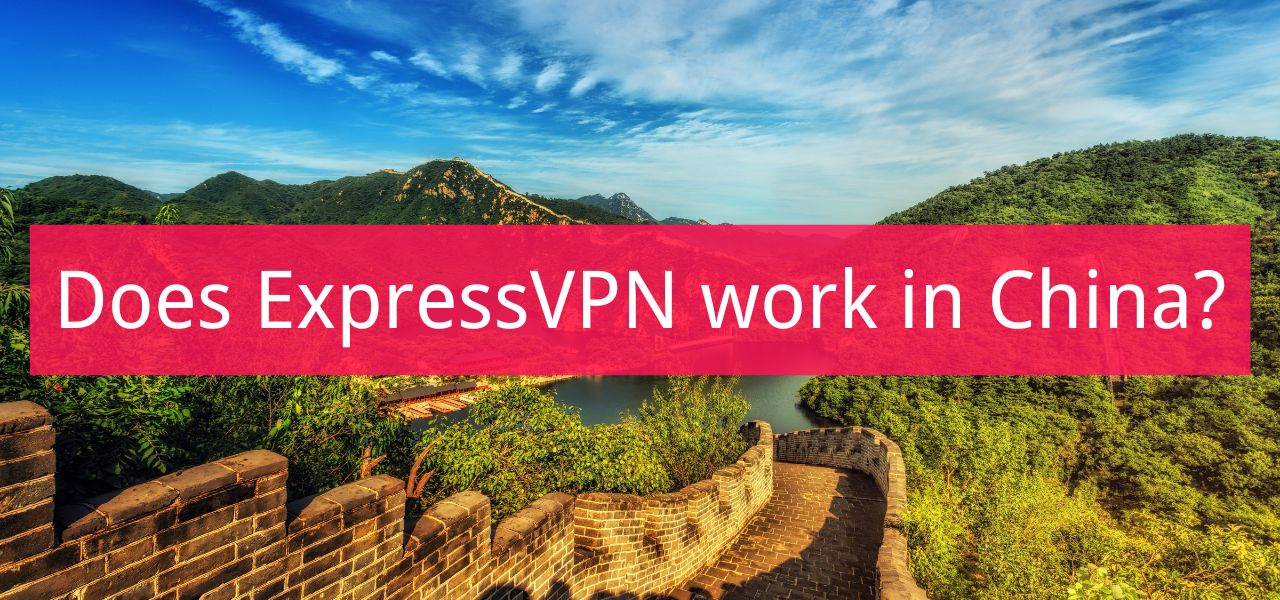 We will show you why ExpressVPN is China's safest, most reliable, and easiest VPN. ExpressVPN holds the highest privacy protection standards and offers the best device coverage. The fact that it has served millions of China VPN users for more than 15 years is beyond impressive if you compare it to other VPNs on the market. The ExpressVPN China status page should show how it battles China's internet censorship.
Is it legal using ExpressVPN or any VPN in China?
Bottom line
Are you concerned about your safety using ExpressVPN in China? Here is the bottom line: no foreigner has ever been arrested for using any VPN in China. How many foreigners use VPNs? Pretty much every one of them. So you are probably OK.
However, if you happen to be a Chinese citizen returning to China, things could be tricky. In some cases, people got called upon by local police, got fined, and even jailed for using a VPN.
It's not hard to find cases where Chinese citizens got punished by the government for VPN-related activities.
And if you read Mandarin, here are a few more cases. Chinese people do get into trouble from using VPNs in China.
Almost legal
So is using a VPN legal or not in China?
According to China's cybersecurity law, VPNs are illegal unless they are "authorized." The central government approves specific VPNs to operate in mainland China. These services mainly exist in businesses. I have never heard of any individual taking advantage of such VPNs. Essentially, all commercial VPNs we know are illegal in China. And technical ExpressVPN as a company is unlawful if it were located in China.
However, do you know how many Chinese VPN "criminals" are there? From Statista, 31% of China's internet population used a VPN in 2017. The number this year must be more significant. Do you know how many Chinese use ExpressVPN daily? The number counts in millions and growing.
Are they all arrested? No. For whatever reason, the Chinese government has never really managed to kill the Chinese VPN userbase and lock up millions or even tens of millions of people. I guess China is not ready to quickly build this amount of jail cells.
So does that mean using VPNs is "practically" legal? Well, pretty much, if you don't get caught. And turns out there are plenty of ways to get caught:
If you live in China, selling VPNs to Chinese citizens can get you in trouble. If you want to do that and make tons of money, make sure you are physically not in China and have prepared not to go there for the rest of your life.
Sharing "free" VPN servers and accounts online are another taboo. The best-case scenario is your post got auto-deleted, and getting a warning from the local police or being fined is not the worst-case scenario.
Even recommending good VPNs like ExpressVPN by mentioning its name on Chinese social media could probably get your account banned forever, don't try that. Seriously, don't propagate any VPN info to your WeChat friends.
Other than that, feel free to send ExpressVPN purchase/download link to a friend via Skype (make sure it's not the censored version), Snapchat, etc., and say a few good words about it on Facebook, Twitter, Reddit, or your blog. It's safe even to send VPN installation files most of the time. Just don't do it on China Internet with China-based tools.
Last but not least, mind what VPN you commit to because a lousy VPN can still betray you in many ways. If you care about your online safety, make sure your VPN 1. guarantees to hide your actual IP address 2. prevents DNS/WebRTC Leaks 100% 3. eliminates accidental data leaks with Kill Switch 4. has audited privacy measures.
Why is ExpressVPN the best VPN to use in China?
It works.
There are hundreds if not thousands of commercial VPNs on the market; guess how many work in China?
Only a poor handful. If there were more, you wouldn't be reading this post.
Guess which VPN in that handful worked the longest for China? It's ExpressVPN, and it has served Chinese users for more than 15 years. There is no official disclosure of how big ExpressVPN has its Chinese user base, but I bet the number counts in millions.
I have used ExpressVPN for more than ten years. I've witnessed its highs and lows over the years. Before Lightway was introduced, ExpressVPN's service quality struggled for a few years. China's crackdown against VPNs built on OpenVPN grew severer by the day; it appeared then that ExpressVPN's connectivity and speed would drown in this old-fashioned protocol.
In 2019, many Chinese customers grew tired of ExpressVPN's connectivity problems and started looking for alternative VPNs all over the internet; I recall getting comments from Chinese viewers asking for "better" VPNs almost daily.
Fortunately, it bounced back after a few months. From mid-2020 till now, ExpressVPN has stood as my favorite VPN. It turns out many of my friends in China love it too and use ExpressVPN every day.
Believe it or not, we've tried A LOT of VPNs over the years; I'd say more than 20 of them, including a few well-known names. It doesn't matter that a VPN has ten-thousand servers worldwide, gives unlimited connections, offers 80% discounts, or charges nothing at all. If it can't penetrate GFW and connect to a server outside of China and deliver Google/Twitter/Facebook/Youtube – you name it to the Chinese customer, it means nothing.
So why do we love ExpressVPN? Because it works in China and has kept working for more than 15 years. The ExpressVPN team cares about their Chinese userbase; look at the ExpressVPN China status page. We can't remember how many other VPNs have tried and failed for China. Google "best VPN for China" and find no site isn't recommending ExpressVPN. I know quite a few people from different Chinese cities relying on ExpressVPN for work.
It does not leak your data, not a bit.
Kill Switch
Kill Switch is a common feature among VPNs. It works temporarily to lock your network and stop all traffic before it connects to a server—a simple yet valuable part to prevent your data from accidentally leaking to the outer world. Just Imaging when you're posting to a politically sensitive online forum and your VPN connection drops; without you being aware, your editor might auto-save a draft or background programs trying to ping the website; without Kill Switch, this type of request will likely leak into an untrustworthy 3rd-party such as the Chinse ISP's network. With Kill Switch, you can rest assured that no data will be sent proper encryption when your VPN connection restores.
ExpressVPN's network lock is system level. When it takes effect, there will be no traffic leak, not just your browser requests, but ALL network traffic going out and coming into your device. I have experienced a few Kill Switch implementations from different VPNs in the past; some VPNs have the problem of being unable to unlock the network after Kill Switch takes effect and the VPN reconnects; ExpressVPN is free of such bug.
Private DNS
When you're in China and happen to open "overseas-forum-ccp-dislikes.com," you don't want the DNS request to go through China Telecom/Unicom/Mobile's server. But if your VPN does not redirect that request to a private DNS server outside of China, the Chinese government will know what you've been up to and even start to keep an eye on you. Of course, you probably won't notice that someone has been watching you until local police knock on your door one evening.
Some websites are perilous for you to visit from mainland China, not to say visiting them regularly. There were cases that during the 2019-2020 Hong Kong protests, citizens received "nice" SMS warnings from police just because they accessed Twitter/Facebook too often. How did the police know that? Probably DNS leaks from lousy VPNs.
ExpressVPN offers private DNS on every server; as long as you are connected to ExpressVPN, all the DNS requests will be sent directly through the encrypted VPN tunnel to a safe overseas server, and your ISP and the Chinese government will not know what websites you've been visiting.
Audited "no-log" policy
Many VPNs claim to honor a "no-log" policy. Most of them are lying. There is no way for users to verify their claims. Stay away from any VPN with such a claim but can't prove it with a proper 3rd-party audit report.
ExpressVPN's no-log policy has been audited by PWC. It ensures that the ExpressVPN system will NOT keep any data that could be used to trace it back to you personally, including:
Your actual IP address, usually assigned by your ISP, which, if leaked, can be used to pinpoint your physical location
Browsing history, web pages you ever visited over the VPN connection, when revealed, can be sold to Ad publishers for them to retarget you with spammy messages
Where and when your device sends out network requests, when leaked, could be used to profile your online activities and ID you.
DNS queries, websites that you have accessed when leaked, can be used to track back to you
Why don't you want your VPN service provider to keep your data? Well, imagine your VPN provider was hacked or its servers seized by the government. Would you be comfortable for them to have any of the above info?
If you want to understand ExpressVPN's no-log policy better, read this article.
What's also audited is the TrustedServer technology. I know that ExpressVPN is the ONLY VPN to have this technology. A TrustedServer is one that, according to ExpressVPN:
All data is wiped with every reboot, as VPN servers run on RAM only
Servers never write to the hard drive, further minimizing data risk
The entire software stack is reinstalled on every server at the startup
We know what's running on every server, with no inconsistencies
Anyone who wants to steal your data must hack into a live server, tap into RAM's data flow, decrypt, decode, extract and try to make sense of it. Meanwhile, the hacker will lose all the work if the server somehow restarted; he might not even start in the first place because the server will probably auto-shutdown (or a manual shutdown by ExpressVPN admin) and wipe everything when his activity is detected. From the hacker's perspective, it's like carrying out "Mission Impossible." Unlike the movie, of course, it's practically impossible in real life.
ExpressVPN has never been hacked. Though, it has a bug bounty program for successful hacks. Its servers got seized once by the Turkish government, though, which only proved its "no-logs" policy true and working:
As we stated to Turkish authorities in January 2017, ExpressVPN does not and has never possessed any customer connection logs that would enable us to know which customer was using the specific IPs cited by the investigators. Furthermore, we were unable to see which customers accessed Gmail or Facebook during the time in question, as we do not keep activity logs. We believe that the investigators' seizure and inspection of the VPN server in question confirmed these points.
Split Tunneling
Split Tunneling is a must-have feature if you use a VPN in China. Because you don't want the extra lag when you interact with WeChat, AliPay, or any domestic service APP on your computer or phone, none of the domestic APPs is banned GFW; since their servers are in China, they discourage access behind a VPN, some might even deny access from a foreign IP.
But what if you need to open Facebook and WeChat side by side? Would you have to switch on and off ExpressVPN just to use either APP properly?
Fortunately, ExpressVPN has Split Tunneling built-in, which allows you to exclude WeChat – or any Chinese APP from the VPN tunneling app list. The configuration requires client restart to take effect, after which you can use WeChat and Facebook side by side with ExpressVPN connected. You will find that WeChat is pretty responsive. That's because your phone messages directly to WeChat's China server – which has a latency below 50ms, while your Facebook APP still works through a remote ExpressVPN server which tends to have higher latency – usually above 250ms.
Although I must say that ExpressVPN's Split Tunning isn't perfect, first off, it doesn't support configuration on a per-domain basis. You will most likely have to use two browsers to separate access to foreign/domestic websites. For instance, to access bilibili.com and twitter.com smoothly simultaneously without switching on/off ExpressVPN, you could open the former in Microsoft Edge and the latter in Chrome while keeping the Edge browser excluded from ExpressVPN's tunnel list.
Some may find it tedious to be forced to switch back and forth between two browsers to see two different websites, including myself. This is where I believe ExpressVPN can learn from other VPNs, such as Astrill, which not only has site-level configuration but also does not require client restart.
It connects fast
Thanks to the Lightway protocol, ExpressVPN connects instantly from China as we tested from major cities in China.(see screen recording below).
According to my friend in China: Only ShadowSocks' connect speed is comparable to ExpressVPN, although SSR usually requires some manual effort to set up. VPNs based on traditional protocols such as OpenVPN can take tens of seconds to connect. Switching servers in such a VPN can be very tedious.
It has the widest device support.
ExpressVPN runs on Windows, Mac, iPhone, iPad, iPod, Android phones/TV, Linux, Chromebook, Fire TV, Kindle Fire, Apple TV, Xbox, Playstation, many Smart Home Devices, routers, and even MediaStreamer; browser extensions for Google Chrome, Mozilla Firefox, Microsoft Edge used to control ExpressVPN clients are also available. Installation packages and instructions can be downloaded directly from the setup page.
For Chinese users with no access to Google Play Store and overseas Apple App Store, one won't be able to download from the China App Store; ExpressVPN offers direct APK download, and manual installing for iOS devices is also available.
For outdated devices or ones that can't install the ExpressVPN client, as long as either OpenVPN or L2TP/IPsec is supported, you can set up ExpressVPN with manual configuration. You will use a hashed username and password and manually download the OpenVPN configuration file or L2TP/IPsec nodes for the setup. It does require some technical know-how. The good news is that ExpressVPN's live chat support is available 24/7.
Suppose you are to live in a rented place in China. I highly recommend bringing an ExpressVPN-ready router with your trip. It will make things a lot easier. As long as your device is signed in to your WIFI, it automatically acquires shared VPN access. This saves you from having to set up ExpressVPN on each device. If you were to do this, it would be much easier to do it before you reach China. I suggest you order the router as early as possible and set it up before you get on the plane.
Download & install ExpressVPN
In case you haven't landed in China yet. Congratulations! Downloading and installing ExpressVPN is easy as pie. Just click the big red button below and open expressvpn.com:
Disclaimer: This is an affiliate link. Using it to purchase ExpresssVPN will NOT inflate your price, but I will get a commission from the sale.
You should have no problem choosing the right plan for you and completing the purchase, after which you will be automatically signed in to the setup page (or click on Setup on the top-right of the page), pick your device client, and download. Again, I strongly recommend you check out the router section.
If you are already in China. Well, good for you too 🙂 You've made it! Here is some bad news: there is no ExpressVPN China site that you can open in your browser, buy ExpressVPN and download the APP. Nope. There are ways to get around it, though.
Try asking for a friend's help first. I am 100% sure someone will help you. And you may already know who to ask. Remember that more than 40 million Chinese people use VPNs daily in and out. People don't talk about VPNs on dinner dates in China, but if you mention it, they know exactly how to get the stuff; it's not a mystery, and I bet some will feel pretty good about themselves for being able to help you.
Regarding the ExpressVPN China page, it used to be available – for a few years, but the crackdown on VPNs intensified; ExpressVPN shut it down permanently, making it harder for China users to get it. Although that doesn't mean ExpressVPN has quit China.
I recommend you get ExpressVPN prepared before you board your flight. It'll save you a ton of time & frustration, nevertheless. And keep a close eye on the ExpresssVPN China status page and keep the APPs updated.
Update ExpressVPN from China
Updating ExpressVPN from China should be straightforward. The client APP will notify you whenever a new version is released: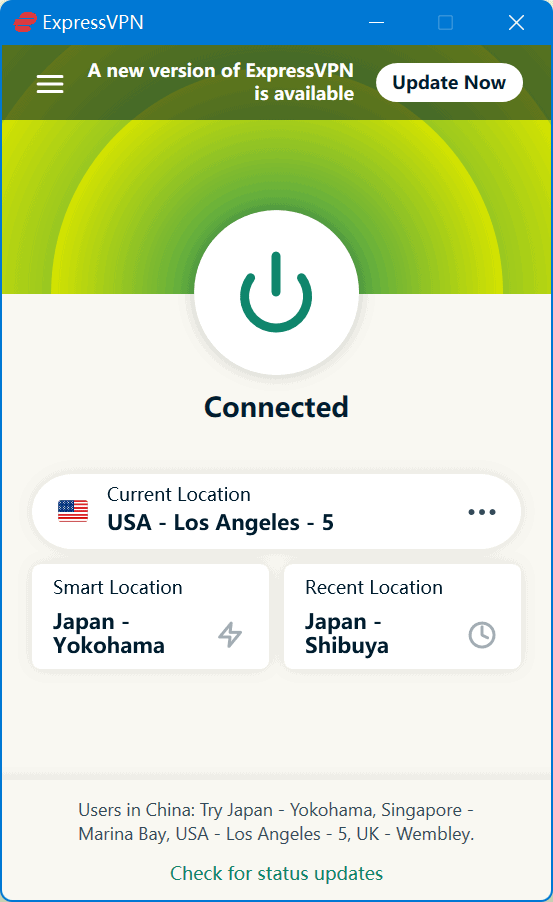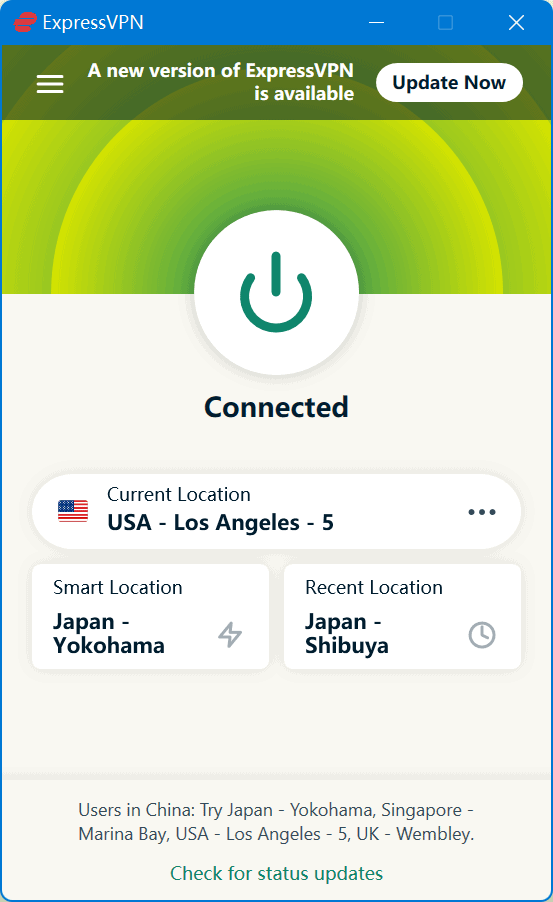 Click "Update Now" at the top to open up the latest version's download page. What's great about this page is that you can open it even when you are not connected to any VPN. You can download the installation package from China without any trouble.
When you see the "Update Now" button, use it to download as soon as possible. You don't want the APP version to fall behind too much because both the APP and the link may stop working. ALWAYS keep the APP up-to-date.
You may have noticed the "Check for status updates" link at the bottom. That's the link taking you to the ExpressVPN China troubleshooting page. Unfortunately, I can't give it a static link because it constantly changes – ExpressVPN plays a cat-and-mouse game with the GFW with lots of temporary domains and pages; they are used as update links, status pages, and other things that might not as visible as they are on the APP interface.
Here is what's on the latest China troubleshooting page. If you find ExpressVPN getting slow or less stable – which happens a few times each year, keep a close eye on the APP; an update is probably on the way, and there is perhaps a notice on the troubleshooting page.
FAQ
Is there an ExpressVPN China site?
If you mean a website you can open without a VPN from China, purchase, and download ExpressVPN; no, there is no such site. However, it is entirely possible to get ExpressVPN from China. Although, I strongly recommend you prepare it before you arrive in China. The purchase/download/installation/configuration process will be much smoother.
Does China own ExpressVPN?
No. ExpressVPN is based on the British Virgin Island. You can confirm this as a fact from many sources. So I'd rather not waste time explaining it here. No evidence shows that it connects to any Chinese entity. If any reader can offer hard evidence to prove the ExpressVPN China connection, I will be happy to publish it here. Feel free to comment on this topic which is still being debated. I want to keep an eye on its development too. So far, it appears to be just internet rumors. There is no need to get paranoid as a user.
Which servers should I use in China?
To help millions of China users to get around censorship, ExpressVPN heavily optimizes these server locations: USA – Los Angeles – 5, UK – Wembley, Japan – Yokohama, Singapore – Marina Bay. Among these, LA-5 is the stablest and fastest, followed by Japan, the UK, and Singapore servers. Like 95% of the time, you can just use LA-5. This list may change at one point or another. The most important thing is to keep your ExpressVPN APP up-to-date.
Note: Since August 2022, due to heavy restriction to above server locations, ExpressVPN updated its client APP suggesting users switch to the pick for me mode.
Does ExpressVPN have servers in China?
No. There are no ExpressVPN China servers. ExpressVPN does not have servers in China and probably will never have them. It serves people living in China who need to bypass internet censorship imposed on them by the central government. So all its servers ALL reside outside of China. If ExpressVPN were to offer servers within China, the company would also have to keep all software and data to comply with Chinese cybersecurity law. This could potentially jeopardize the privacy of millions of Chinese customers. I don't think ExpressVPN will be that stupid to do that. If you are looking for VPNs that can offer China IP addresses, please read through this post (in Chinese).
Where can I see the latest ExpressVPN China Status?